indaHash MAJOR UPDATES, top campaigns, new features and global expansion!
Dear 

indaHash

 Community,
In 2018, we've got some HUGE UPDATES, important reminders, and GREAT NEWS we would like to share with you all! Check out what's been happening at indaHash and what's in store for the future!
Product update
Brand new dashboard for indaHash clients!
Our goal is delivering the highest quality possible for our clients (e.g. as McDonald's, Coca-Cola, Unilever etc.) so we've prepared a completely new and enhanced dashboard with new features such as content premoderation, multi-access levels and extended reporting. New dashboard is planned to be introduced at the end of February 2018.
Audience data integration!
We're constantly working on delivering brands additional data in terms of influencers and audience targeting. Now we're conducting integration with external suppliers in terms of additional audience analysis and reporting. Production release is scheduled for February 2018.
Release of indaHash Coins inside indaHash app!
We're working on the integration of IDH tokens with our app. Initial integration and payments are planned for Q1 2018! We'll keep you posted!
Business update
New Partnership with Mediagene and Infobahn in Tokyo!
We are proud to announce that we are starting cooperation with publishing sites like Business Insider Japan & Gizmodo. Together with Mediagene and Infobahn we offer advertisers the unique opportunity to work with influencers who are also loyal readers of those websites.
indaHash translated to Bahasa, Spanish and Portuguese!
As we are expanding in the APAC region, our app is being translated to Bahasa (Indonesia). Because of the new confirmed campaigns and new markets in the LATAM region – Brazil, Mexico and Argentina, we are also working on the translation to Portuguese and Spanish. We plan to release our app with new languages prepared for market expansion in mid February 2018.
First campaigns in Chile, Argentina, Iran and Moldavia!
indaHash is proud to announce the first campaigns launched in new countries such as Moldavia, Iran, Chile and Argentina. If you want to track case studies from our campaigns please check our Instagram: instagram.com/indahash/
Campaign updates from all over the world
Over the last few weeks indaHash conducted campaigns for some of the most well-known and recognizable brands in the world! You can check out a couple of them here:
Team update
indaHash is rapidly developing its great team! Over the past 30 days more than 20 people joined the indaHash team all over the world. Please meet some of the new indaHashers:
We are proudly welcoming Manny Djornor who will be the VP Business Development Director in the MENA Business Development department in Dubai! We also have a new Product Owner – Marco Yammine.
indaHash is happy to announce our new team member Essa Alsabea joining us as a Social Media Campaign Associate in the Influencer & Client Relations department alongside Natalia Dobrowolska as Social Media Performance Manager and Jakub Wyglądała as Head of Influencer & Client Relations!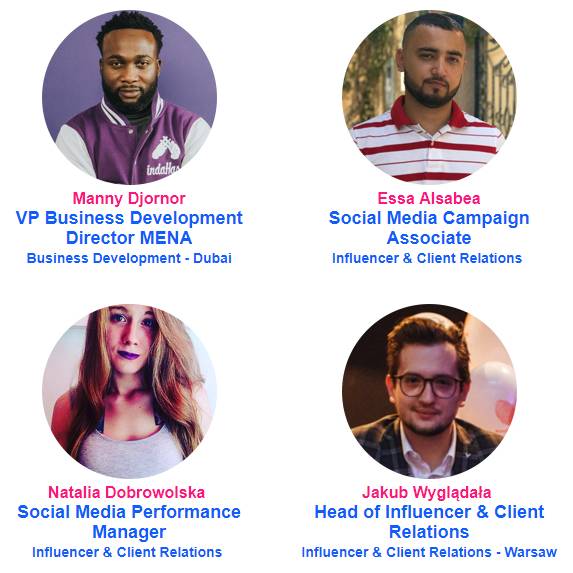 First 

indaHash Coin

 listings!

We're now listed on HitBTC and Tidex! indaHash is excited to add that we are currently working closely with other exchanges and expect to announce further listings, so stay tuned!
Creating history with indaHash!
Barbara, CEO of indaHash, was invited by Samsung to Seoul, Korea to run with the Olympic flame! Being a part of history and raising awareness of IDH! 
As you can see, we are constantly growing and expanding across the globe! Together we have many things to look forward to!
The indaHash community is stronger than ever with more than 12,500 members in our Telegram Chat! Join us at
https://t.me/indahash_chat!

We appreciate the great continuous support from the community and encourage everyone to keep building the momentum!
Thank you!
All the best,
The indaHash Team